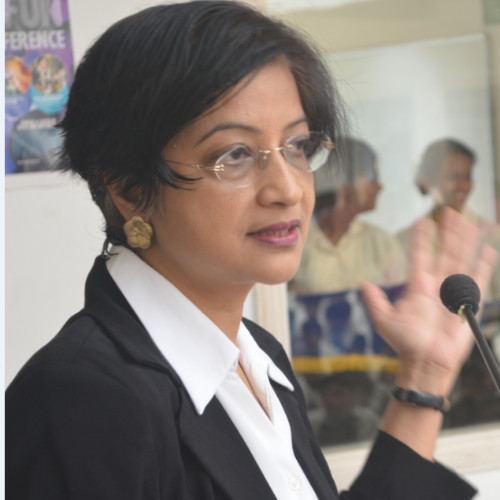 Rupa Sen
Rupa Sen has been a successful change manager, strategic administrator, and Impacting educationist for nearly three decades. She has received a Bachelor of Arts in political science from St. Xavier's, Calcutta, was awarded the silver medal in Bachelors of Education from Calcutta University, and received a Master of Arts in political science from Rabindra Bharati University, Calcutta.
In her quest to deep dive into advanced areas of critical thinking, she completed Project Zero from Harvard Graduate School of education and has undergone several IB trainings for Heads. She has a depth and breadth of knowledge of two international curricula and the CBSE. As a teacher, Examiner, Coordinator and Principal.
She has experience and expertise in handling several assignments in all three curricula.
She has also delivered a teacher training workshop to a reputed school in UAE on prerequisites of an international curriculum. She has conducted regular worship within her school.
From the City of Joy to the city of the largest BPO hub in Gurgaon to God's own country Rupa has worked and lived in different geographies, absorbing and embracing the cultural and educational best practices. Delhi Public School Pathways World School, Lancers International School, and the Trivandrum International School are some of the places she has been associated as a teacher, Examiner, coordinator and visionary leader.
She was a member of the curriculum planning review committee for NCERT and nodal chief examination officer for CBSE social science examination in the Punjab-Chandigarh region.
Rupa firmly believes in fostering a student-centric academic environment actively promoting social initiatives within the student and teacher communities. She was the recipient of the Growl award for her community reach project in Gurgaon.
She worked as a CRY volunteer to bring dropout children back to school.
She calls herself a life long learner who is seeking new pathways. pushing boundaries and trying to move away from the stereotype. Change to grow is her favourite tag line and her journey of life bears the testimony to this.
Rupa is currently the Head of Bangalore International School where she is in her never-ending pursuit to bring excellence in change management.