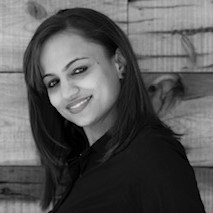 Aarti Pandey
Aarti Pandey, Cofounder, Folk Fitness, is inspired by India's rich culture and a thirst for fitness. She wanted to bring forth a sense of fitness inclusiveness for all age groups aiming to make India a fit country. Being a woman entrepreneur, she sees Folk Fitness as an entrepreneurship platform for housewives, fitness enthusiasts, and fitness trainers irrespective of gender and region. Folk Fitness, now, has over 700 fitness trainers across 18 cities in India along with a presence in Australia. Some of the key awards and recognitions received by Aarti are:
Leading Young Woman Entrepreneur at the 6th Annual Women Leaders in India & Awards  Phoenix Leading Lady Awards 2018
 Entrepreneurial Success by National Start-up and Entrepreneurship Conclave
 Pune International Dance Congress
 Made By Her Star 2017 by Women At Work
Started her journey with Bharatanatyam for strong classical dance knowledge, Aarti founded Pune's premier Dance academy DDLL in 2010 as her first and very successful entrepreneurial endeavour. This venture further expanded to launch Fiber Fitness Services Pvt. Ltd in 2013. Aarti has learned Indian folk dances for many years under the expert guidance of Late Indumati Lele and represented Maharashtra and India at many national and international dance competitions. After being trained in various Indian folk and Latin American dance styles, Aarti started teaching dance to various dance and fitness enthusiasts. Currently, she holds an experience of more than 20,000+ hours of teaching dance fitness. With an MBA in Sales and Marketing from Welingkar Institute of Management, Aarti has with her more than 6 years of corporate experience. Being a mother of two, she also efficiently manages her work-life balance by spending quality time with her family. She was recently recognised as a Champion Mentor on Sheroes.com – a women-only portal.